Gartner, the world's leading information technology research and advisory company, predicts that IT spending in the Life Sciences sector will reach $54 billion by 2019, growing at an annual average of 5% from 2015-2019, whereas the worldwide public cloud services market was expected to grow by 16.5% in 2016 totaling to $204bn.
Outdated IT and software, changing regulatory demands are just a few arguments which fuel the growth within Life Sciences' IT spending. From a compliance perspective, outdated IT systems may stymie efforts to meet mandatory requirements.
The Life Sciences Industry is known as the most regulated and monitored industry worldwide. But it is also known as technologically conservative industry which is related to high security demands and the compliance regulations. These are just a few reasons why cloud adoption has been slower within the industry in recent years.
Today, with evolving technology, new security standards, compliance and regulatory demands are achieved in the existing cloud solutions for the highly regulated Life Sciences companies. Enterprise software is changing: Organizations are shifting steadily toward cloud-first strategies to enable digital transformation.
Many industries have already shifted to industry-specific cloud-based solutions. This trend can also be observed within the Life Sciences industry over the past few years, especially in the US, but today also in Europe and in other markets: More and more companies are taking advantage of the substantial cloud solution benefits. These industries have been ripe for innovation, they are being forced to modernize and in many cases they were able to avoid it for too long. But no more!
Decentralized and global operations, demand for collaboration and distributed information, cost and increased productivity pressure are reasons why industry cloud solution vendors are offering a unique value proposition to its clients. Industry-specific cloud providers like Phlexglobal allow its clients to manage content while delivering high quality and fully compliant results. Many of Phlexglobal's current clients used more generic or on-premise solutions before making the switch to an industry-specific cloud solution.
By leveraging a centralized Phlexglobal master data management platform, organizations are benefiting from cross-functional features, reducing the cost of compliance and maximizing their ability to focus on innovation. Investing in technology today will enable organizations to save millions in the future as ever changing regulations continue evolving. By choosing the industry-specific Phlexglobal solution, clients ensure that their information is managed and secured by professionals who are trained in meeting their unique technology needs, ensuring the need to be as effective and productive as possible, combined with full compliance.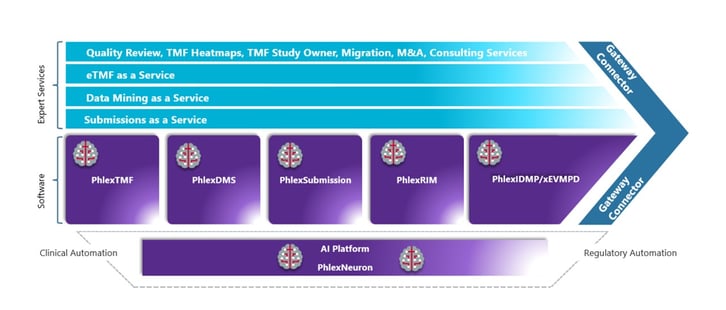 Image: Phlexglobal Solution
With our current cloud-enabled software modules:
Phlexglobal is well-positioned to serve its global clients in 2017 and beyond.