Industry Challenge: Higher Inspection Risk from Misfiled Documents
TMF misfiles and metadata errors are an industry-wide problem, leading to poor-quality TMFs and time-consuming remediation to avoid the risk of inspection findings.
As many as
1 in 10 TMF documents are misfiled
Up to
50% of uploaded TMF documents have errors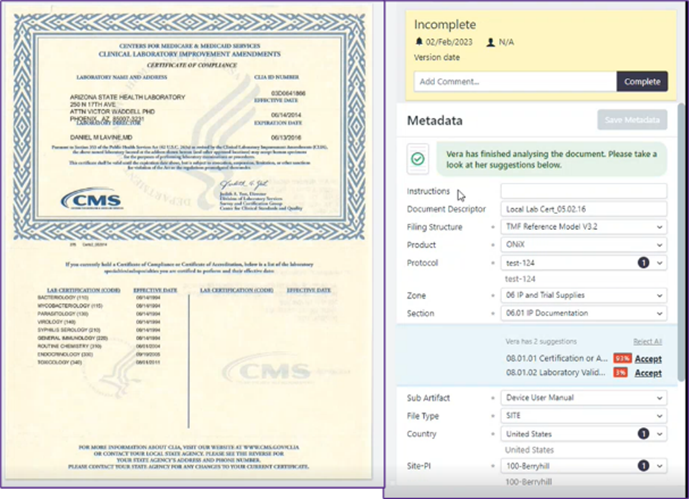 PhlexTMF offers the industry's only next-generation eTMF AI that offers expert suggestions at the critical document upload step – reducing errors and improving TMF quality, completeness, and timeliness.
FAST FACT: PhlexTMF v21 is pre-trained on millions of documents and embeds the cumulative guidance of hundreds of Phlexglobal's TMF experts.

The result? More clinical documents are "right-first-time" at document upload, helping prevent document misfiles and metadata errors before they occur - and reducing queries and time-consuming remediation.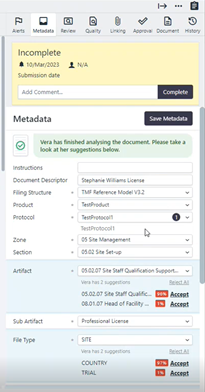 After users make their selection, PhlexTMF v21 then automatically populates the fields with the correct data – including Zone, Section, Artifact, Subartifact, Country, File Type, and more.
Users unfamiliar with the TMF filing structure or who don't use the system often can file documents more quickly and accurately - while even highly trained users can save valuable time.
Unlike first-generation TMF "bots" that require lengthy training on your own documents before delivering even limited value, Phlexglobal's pre-trained AI is ready to go and effective from day one.
Key Features & Benefits of PhlexTMF AI
Delivers guidance of hundreds of TMF experts at the document upload step, helping prevent the risk of TMF document misfiles and metadata errors before they occur
Reduces queries and time-consuming remediation, lowering costs and freeing up busy study teams
Pre-trained on millions of TMF documents and effective on Day One – does not require diverting valuable study resources for training on your own documents
Improves TMF quality, completeness, timeliness, and inspection-readiness