In early October, Phlexglobal was honored to welcome industry TMF professionals from over thirty pharmaceutical companies and Contract Research Organizations to the 2019 U.S. TMF World Forum in Philadelphia. For two days we discussed many of the challenges facing companies on their journey to the TMF Health Zone, a balanced approach to Trial Master File management that takes people, processes, and technology into account while addressing Quality, Completeness, and Timeliness.
The goal of the event was to share practical knowledge and best practices on how to improve TMF management, and 100% of attendees said the event met or exceeded their expectations and that their TMF skills, knowledge, and understanding had been enhanced.
With our United Kingdom TMF World Forum just around the corner, we'd like to share some of the highlights and feedback from attendees.
| | |
| --- | --- |
| | Phlexglobal CEO John McNeill kicks off two days of informative discussions and networking. |
| Representatives from over thirty companies came together in Philadelphia to discuss way to achieve TMF Health. | |
Attendees took away practical guidance on topics ranging from increasing the importance of TMF in their organizations and establishing risk-based quality metrics, to different TMF operational models and utilizing AI in a TMF. Some of the comments from the attendees include:
"Lots of valuable insights about TMF."
BMS

"Great mix of overview and detail."
Origin Biosciences

"Learning about risk-based management of the TMF was very relevant for me."
Pfizer

"The range of topics and important discussions was excellent."
Daiichi Sankyo

"Great networking and discussions with other sponsors."
Duke Clinical Research Institute

"Great tips for elevating the importance of the TMF in our organization. I will definitely be able to use them."
Enterin

"Really engaging discussion on how to make TMF relevant, personal, and make a difference to facilitate change."
Rho

"The risk-based QC formula was very applicable; I plan to take this back and implement it."
UBC

"Great to see actual roles and how they would use reports and dashboards/metrics."
ADC Therapeutics

"Good discussion on how to work with CROs and transfer the eTMF at the end of the study."
Celgene
One of the most enjoyed elements of the conference was the Phlexglobal Tech Lab. Members of the Phlexglobal technology team held one-on-one sessions with attendees where they discussed ways eTMF technology can help with achieving and maintaining TMF Health.
| | |
| --- | --- |
| | Solution Consultant Aaron Grant and Vice President Marion Mays walk attendees through eTMF Technology Solutions in the Phlexglobal Tech Lab. |
In addition to customer presenters, key members of the Phlexglobal TMF team presented on exciting topics that covered various areas of TMF Health. These presentations supplied the audience with actionable insights around People, Process, and Technology to help meet standards for TMF Quality, Timeliness, and Completeness.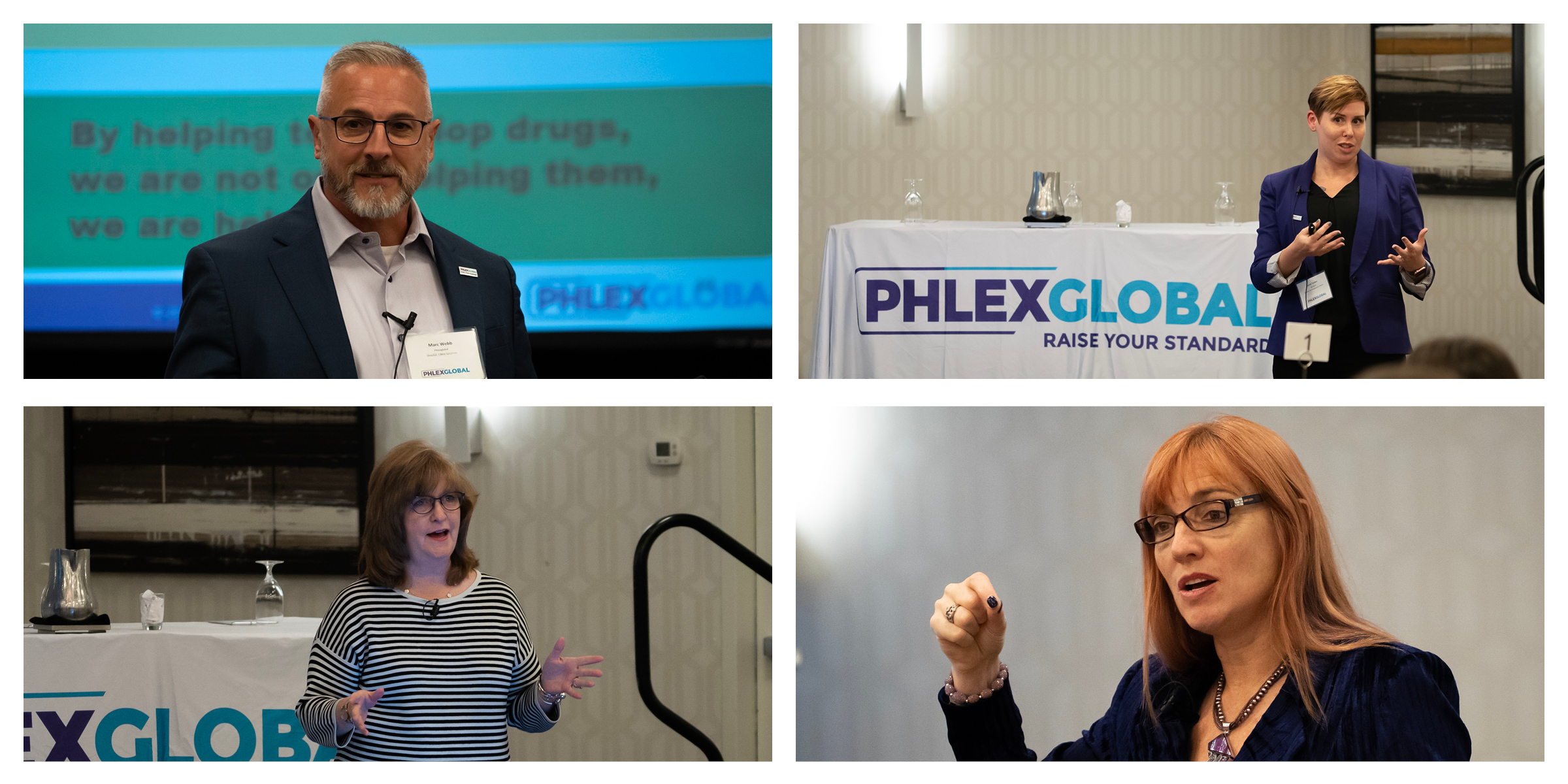 Clockwise from top left: Marc Web explains how to elevate the importance of the TMF in your organisation, Sarah Tucker discusses top trends in TMF data, Sharon Ames facilitates a discussion around the right kind of training by role, and Chief Strategy Officer Karen Roy provides valuable insights into TMF Management.
There is still time to join us for the United Kingdom TMF World Forum, 12-13 November in Beaconsfield to experience these presentations and more. Click here to view the agenda and reserve your space.