Regulators have made it abundantly clear, through recent guidance and inspection findings, that compliance responsibility for an outsourced trial lies with the sponsor – and not the service provider. During an inspection, agencies will review the TMF for clear evidence of ongoing and effective trial oversight by the sponsor. Along with the all-important components of quality, completeness, and timeliness, demonstrating oversight is a critical requirement for TMF health and inspection-readiness.
Click to listen to this Blog
With the operational outsourcing of clinical trials increasing, however – and with trials producing more documentation, from different sources and in different formats – conducting effective oversight has become increasingly challenging. Both sponsors and CROs struggle with information overload and time-consuming manual processes in determining what's important from a TMF standpoint.
To achieve your goal of compliance best practices around oversight, it's helpful to review what aspects inspectors will look for in the TMF when establishing sponsor compliance with oversight requirements. Among other items, regulators will assess the presence (or absence) of the following:
Active management of the trial around quality, completeness, and timeliness, with ongoing tracking of key metrics in each area. Remember that active management means not just overseeing the TMF but ensuring that any issues are dealt with quickly. If a

site is not being compliant with submitting documents, for example, you can't simply assume the CRO will take care of it. As noted, any issues will ultimately come back to the sponsor.



Ongoing sponsor control over the study, as demonstrated by documented review and approval by the sponsor of the clinical study plan, monitoring plan, quality plan, and so forth, together with detailed documentation supporting decisions made around study conduct. As part of this, key communications between sponsors and CROs should be documented in the TMF, including email

correspondence

.



Implemented and current SOPs, policies, and KPIs encompassing key processes, which are reviewed and shared with all parties involved in trial management. These include (but are not limited to): roles and responsibilities for TMF management, sponsor access to the TMF or eTMF and CRO access to sponsor documentation, query management, quality review, system training, onboarding and offboarding staff, and Service-Level Agreements (SLAs).
The ability to authenticate documentation at every stage and create a complete audit trail for the Trial Master File. You should be able to easily indicate where a

document came from, know whose hands it went through, and verify its authenticity.
Full and regular access by the sponsor to documents in a CROs eTMF. Inspectors will look for the number of people with access, login frequency and duration, what was uploaded or accessed, etc.
The Promise – and Pitfalls – of an eTMF System In Ensuring Sponsor Oversight
In a recent survey of more than 70 TMF professionals, we asked how they were tracking oversight in their organizations (more than one answer was allowed):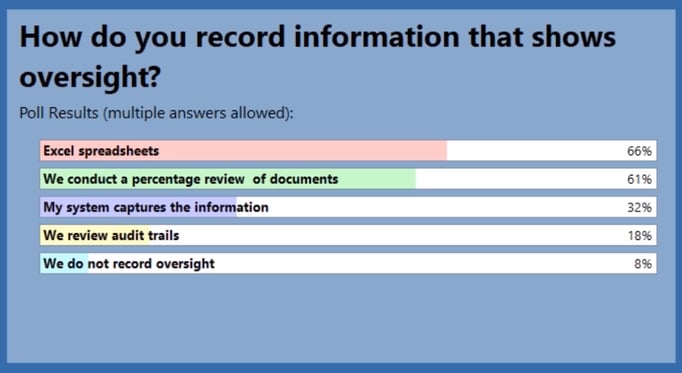 As you can see, two-thirds of the respondents were still using spreadsheets and manual processes to record oversight information, while only one-third were using some type of eTMF system. While Excel is a powerful tool, it pales in comparison to what a purpose-built eTMF can do.
To take just one example, consider a task of extracting and reviewing all monitoring visits by a specific CRA. Using a combination of spreadsheets and manual processes would take even the most proficient document specialist hours to find the correct documents. In a properly configured eTMF, it can be done in a few minutes by a person trained on that system.
Looking back at the key oversight and documentation requirements required by regulators that we noted earlier, the advantages of eTMF software become clear:
Active TMF management becomes easier and faster, with embedded workflows enabling quality review, completeness checks, document filing, metrics tracking and more within a single system. Many of these processes can also be automated, creating greater efficiency and freeing study teams from repetitive and time-consuming tasks.
You gain transparency and collaboration with study partners, and insight and control over the TMF at any time. Identify problem areas, drill down, share information, and assign tasks such as required remediation according to pre-configured workflows based on your organization's SOPs.
Document authentication and audit trails are built in, ensuring that you can tell the "story" of every essential document within the Trial Master File.
And the pitfalls of an eTMF? The most common one we see – and the most avoidable – is companies believing that simply implementing an eTMF will take care of TMF health, inspection-readiness, and oversight. While it may sound odd coming from an eTMF provider, we tell our customers that software alone can't fix broken or nonexistent processes. Software will only be as good as your processes that go into it, and the capabilities of the people using it.
That said, when people, process, and technology are aligned – what we refer to as being in the "TMF Health Zone" (read more about that here – a well-managed eTMF provides organizations with the timely TMF management oversight and control mandated by regulators worldwide, with greater accuracy and far less effort.
For more on this topic, watch Marion present these concepts in our on-demand webinar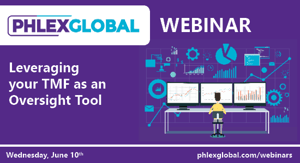 Leveraging your TMF as an Oversight Tool
The Trial Master File, one of the most important elements of a clinical trial, can provide a useful tool for CRO oversight. Join us for this thought-provoking webinar as we explore ways to increase overall clinical trial quality.