Phlexglobal Acquires Cunesoft

Authority in Trial Master File management expands offering into Regulatory Information Management and Artificial Intelligence Technology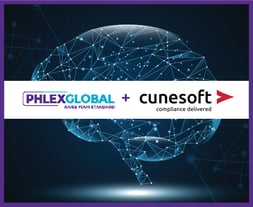 Amersham, UK; Malvern, PA. — January 8, 2020 — Phlexglobal, the leading provider of Trial Master File (TMF) software and expert services, today announced the acquisition of Cunesoft, a move that expands the company's portfolio of best-of-breed technologies designed to provide solution-specific functionality to meet the business objectives of life sciences companies.
Based in Munich, Germany, Cunesoft provides intelligent software and expert services for regulatory data management to the life sciences industry. Cunesoft customers benefit from solutions for Regulatory Information Management (RIM), Identification of Medicinal Products (IDMP) and Electronic Common Technical Document (eCTD) for compliant document, data and submission management. All of those capabilities are enhanced with Cune-Distiller, which uses advanced machine learning algorithms for automation, document data mining and data extraction that can result in rapid deployment and value creation.
"We will be offering customers two levels of immediate benefit with this acquisition" said Phlexglobal CEO John McNeill. "First we will be providing a suite of solutions that will unify the relevant processes and data elements between the Clinical Operations and Regulatory departments of life sciences companies, combining our years of thought leadership in eTMF with Cunesoft's expertise in regulatory. Second, and just as important, we will be leveraging Cunesoft's Distiller solution to package that expertise into digitalized offerings to not only augment our own suite of solutions but to operate with any existing set of solutions that might already be in place."
"The combination of Phlexglobal and Cunesoft comes at a critical time in regulatory transformation where higher operational efficiency and innovation are required," said noted regulatory industry expert Steve Gens of Gens and Associates. "Most Life Sciences organizations are heavily investing in digitization and global operations to connect various regulatory, clinical, and safety capabilities; the combination of Phlexglobal and Cunesoft aligns with this critical trend."
Since its founding in 2013, Cunesoft has been focused on digitalizing processes and building automation capabilities that can be applied to existing life sciences solutions, helping companies achieve outcomes faster without compromising quality. It was this capability that first brought the two companies together in a partnership in 2018.
"We partnered with Cunesoft to advance the automation capabilities of PhlexTMF, our eTMF solution, and were extremely pleased with the outcome," said CEO John McNeill. "Over the course of our partnership, we developed many innovative ideas around how clinical and regulatory data can be contextualized into useful information, bringing drugs to market more efficiently. Now that Cunesoft is part of Phlexglobal, we can expand the use of A.I., machine learning, and data mining to bring these ideas to life."
Unique in the clinical trial industry for its ability to support both the technological and service needs of TMF Management, Phlexglobal cited Cunesoft's deep experience in Regulatory services as an important consideration in moving ahead with this combination.
"The entire Cunesoft team is very excited about this new chapter in our story," said Rainer Schwarz, Cunesoft co-founder and Chief Executive Officer. "Phlexglobal has a long history of providing expert services and leading software technology to its customers, and this will allow us to build on the work we have already done to advance and automate many of the processes crucial to the management of data for life-saving drugs and medical devices."
McNeill stated "Phlexglobal has always been viewed as the experts in our space and Cunesoft brings that same DNA to the combined entity. We are especially pleased that Rainer and the rest of the Cunesoft team will be joining Phlexglobal as it brings a very talented group of people into the organization with domain expertise in the regulatory space as well as application of technology for automation and data mining. This will allow us to deliver solutions - both software and expert services - to address specific use cases that are not being solved today and to deliver higher value in terms of speed, efficiency and quality."
Members of both the Phlexglobal and Cunesoft management team will be available to discuss their vision for the future of TMF and Regulatory management at the 9th Annual Trial Master File Summit in Orlando, Florida from January 21st through 23rd and the DIA Regulatory Submissions, Information, and Document Management Forum (RSIDM) in North Bethesda, Maryland February 10th through 12th.
About Phlexglobal
Phlexglobal provides the market-leading Trial Master File solution by leveraging dedicated and authoritative TMF software and expert services. The company offers a unique combination of sophisticated technology, clinical trial knowledge, regulatory understanding, and document management skills to deliver a range of flexible, targeted solutions to meet business needs. At the conclusion of 2019, Phlexglobal had set new records in customer acquisition, revenue and EBITDA.
Press Contact:
Chris Englerth
Head, Global Marketing, Phlexglobal
Tel: +1 215 622 8798
Email: cenglerth@phlexglobal.com