Based on extensive work helping trial sponsors and Contract Research Organizations (CROs) implement Trial Master File (TMF) best practices, Phlexglobal's experts repeatedly encounter teams struggling to maintain data integrity and document quality during the critical document processing phase. Defined here as the steps starting with creating or obtaining an original document and having it correctly filed into the eTMF system – and then ready to archive when the time comes – document processing presents multiple opportunities to trip up busy study teams.
How to avoid these pitfalls? Our own experience successfully processing millions of documents each month for customers, across multiple eTMF systems, can be distilled into three core principles:
Have experienced people (internal, outsourced, or some combination) dedicated to performing document processing in a consistent manner
Develop, implement, and maintain a consistent process

that people are well-trained on
Utilize technology to reduce manual effort and errors, and to reinforce process consistency
You may have noticed a key phrase in all three of these elements: consistency. Having a well-documented and consistent process delivers several benefits, including:
Reduces time and effort for team members and outsourced providers on process steps

Leads to fewer errors, resulting in higher quality and less rework later

Gets new team members and any service providers up to speed more quickly

Demonstrates support for GCP processes and study oversight to inspectors
Following these principles and establishing consistency means that you should be able to conduct efficient, high-quality document processing with an average "right-first-time" rate of 95% or higher across all documents.
During Phlexglobal's "TMF Summer Shorts" webinar, "How to Ensure Completeness, Accuracy and Consistency from Source to Archive" on August 9, we first examined why achieving this desired consistency is so hard (see Figure 1).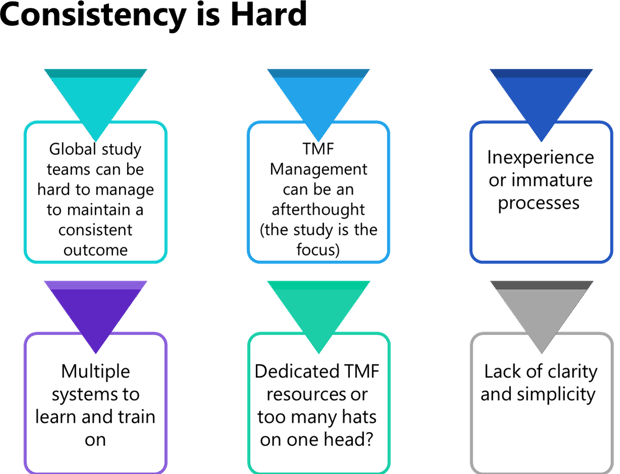 Figure 1. Some of the key reasons we encounter at both sponsors and CROs as to why these organizations often struggle with achieving TMF document processing consistency.
What makes this even tougher is that in our experience, many or all of these challenges are occurring at the same time in organizations – a point reinforced during a poll of our webinar audience (see Chart 1).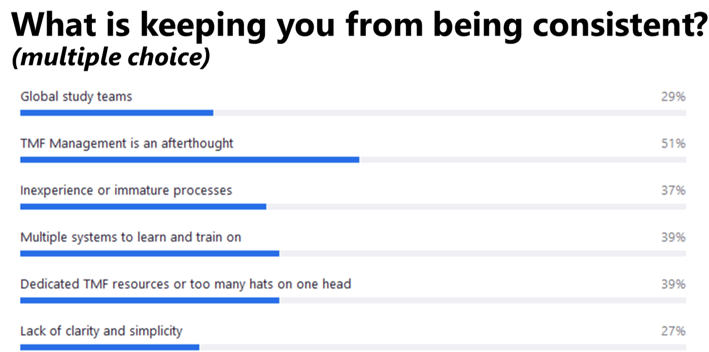 Chart 1. Results from a poll of 70+ attendees of the Phlexglobal TMF Summer Shorts webinar, "How to Ensure Completeness, Accuracy and Consistency from Source to Archive," held August 9, 2023.
Steps to Ensure Consistency in TMF Document Processing
Following are the core requirements for establishing and maintaining consistency in TMF document processing, based on Phlexglobal's own established and expert processes in use (see Figure 2).
Define the Origin
First and foremost, you are going to need a defined point of origin to be consistent with in the first place. If you don't have the origin for your consistency, you don't have a benchmark to measure against. If you do have a good origin, it will be far easier to maintain consistency. So in defining your origin, point back to a single source of truth if possible, or keep the sources of truth to the minimum possible.
Defining your document origin should come from your TMF plan, business rules, work instructions, and Standard Operating Procedures (SOPs). Take the established quality control processes from your TMF plan to determine the business rules around how you want certain documents processed, where they should reside, which dates to be taken on them and so on. Inspectors will look at your TMF plan and ask you to demonstrate that you have followed it over the course of the study.
Note: A TMF plan is a critical foundational element for TMF quality and inspection-readiness – if you don't have one, developing it should be your first priority. With the right kind of help, it is much easier than you may think, and will more than pay for itself by reducing effort and risk.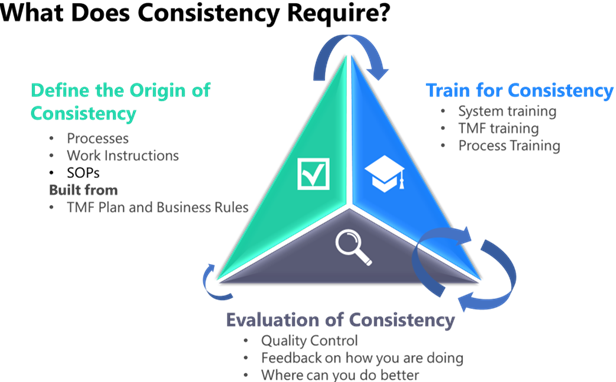 Figure 2. Phlexglobal has found that maintaining consistency in TMF document processing requires defining the origin of consistency (your "single source of truth"), training teams to ensure process consistency, and regularly measuring the consistency you are achieving.
Train on Consistency
After you've defined the point of origin for documents and how you want the process to work, you need to train anyone involved in the approved process. Make sure teams understand what you want them to do, and that they can follow your guidance and your guidelines. Training should include their specific roles and responsibilities, how they will be measured, how to use the eTMF and any related systems or technologies, and above all step-by-step, hands-on training on the process from start to finish.
Measure Consistency
During TMF document processing, quality control (QC) should be the foundation for measuring process consistency. Standard inline QC will include ALCOA+ checks on the document itself. But during that quality control step, you should also check that the documents are going into the eTMF in accordance with your work instructions and processes. Are staff following how they've been trained? Are they meeting or exceeding Key Performance Indicators (KPIs) around accuracy, such as number of queries raised? Review the data frequently and make any necessary refinements such as additional training.
With internal QC checks, you can actually see where your staff might need help. They may just need a little bit of guidance because they're consistently filing a particular document with the wrong date. As shown in Figure 2, this is the foundation for a positive feedback loop between evaluation and training.
Why is the arrow smaller between evaluation and definition of origin? You don't want to change the original definition of consistency much or often, since the goal should be to keep it as clean and simple as possible. If you do determine that certain aspects of your process or your instructions need correction, however, by all means do so – keeping these as few and far between as you can.
When Does Outsourced TMF Processing Make Sense?
Since every organization differs in its internal resources and study demands, it's hard to make a sweeping statement that everyone should outsource their TMF document processing. In a nutshell, however, if you are consistently encountering the challenges shown in Figure 1 at the beginning of this blog – and these are impacting your organization's ability to maintain quality and inspection-readiness – then you should at least evaluate the option.
What to look for? Figure 3 provides some of the most important capabilities, based on our own exacting internal standards for quality.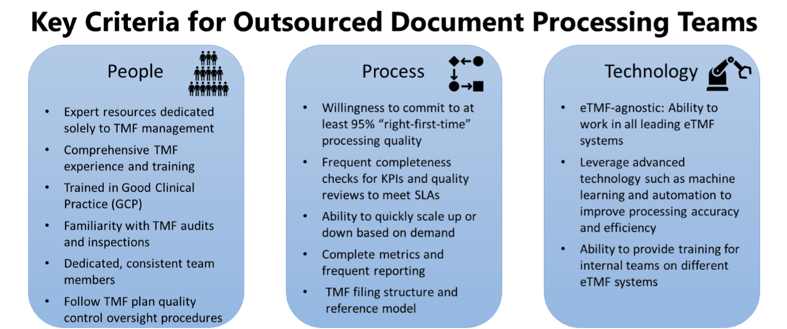 Figure 3. When considering outsourcing TMF document processing, look for expertise and experience encompassing people, process, and technology. Service providers should be willing to commit to a Service Level Agreement (SLA) of at least 95% "right-first-time" processing quality.
With the right document processing partner, organizations can free study teams to focus on running the study, while improving TMF quality and inspection-readiness.
Want to improve document processing quality and free your team? Request a TMF processing assessment
Like to learn more? Visit https://www.phlexglobal.com/tmf-processing