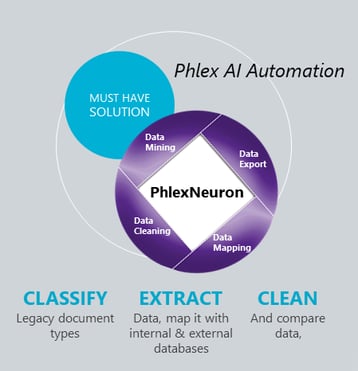 Implement an AI-Driven Machine Learning Solution
Artificial intelligence-enabled software has become state of the art within the life sciences industry. PhlexNeuron facilitates automation of cumbersome manual processes with a time and process savings potential of 75% and higher. Our projects reach an ROI within less than 12 months.
Modern technologies such as PhlexNeuron use several different extraction strategies in parallel: neural networks, natural language processing, fuzzy logic, and deep learning. When combined the right way, information can be extracted from virtually any electronic document. The results are impressive. In addition reinforcement learning constantly improves the trained algorithms. Regulatory Automation software powered by Artificial intelligence learns what result is expected and improves its settings.