Adapted from the Phlexglobal Innovation Tour virtual panel discussion, "Innovation on IDMP / Data Preparation," held July 15, 2020 and featuring Argha Nag, Global Regulatory Systems Data Governance Lead at AstraZeneca, and Steve Blanchard, IDMP Programme Lead at Johnson & Johnson. This blog represents only a sample of the panel's robust and detailed discussion; view the on-demand webinar to get the complete insights from your industry peers at the forefront of IDMP. Should you have any questions for Phlexglobal's IDMP experts about your own compliance efforts, please contact us.
The Identification of Medicinal Products (IDMP) global compliance initiative, a set of five standards developed within the International Organization for Standardization (ISO). continues to progress at regulatory agencies including the EMA and FDA. As a far-reaching, complex set of standards, IDMP will significantly impact regulatory affairs and operations, pharmacovigilance, CMC, marketing, IT and more for Marketing Authorization Holders. Far more than a simple compliance exercise, however, forward-thinking companies are utilizing this global initiative to become more data-centric and well-positioned to manage data as a strategic asset across the organization.
Implementation of IDMP in the EU is taking place under the auspices of the EMA's data submission on authorized medicines (Article 57) and utilizing its substance, product, organisation and referential (SPOR) programme. In turn, the EMA has established the SPOR (ISO IDMP) Task Force, which is responsible for advising on the planning, development, implementation and maintenance of the ISO IDMP standards in the EU. In February 2020, the EMA released the EU IDMP Implementation Guide version 1 ("EU IG v1"), containing detailed guidance around data elements and technical guidance on initial submissions and migration information.
As a sign of continued and rapid progress, the EMA recently released for consultation the draft of EU IDMP Implementation Guide version 2 ("EU IG v2"), for the submission of data on medicinal products. In most cases, organizations will require at least 12-18 months of dedicated resources and effort to fully prepare for IDMP compliance – and the timeframe for detailed analysis and preparation is closing fast.
The good news? Many organizations have already started on this journey, as evidenced by a poll of attendees during our panel discussion (see figure 1).
Figure 1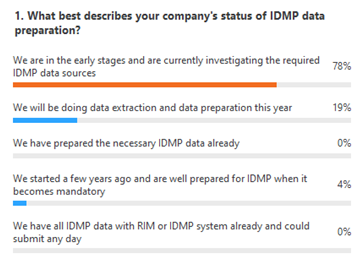 Key Takeaways from the IDMP Industry Panelists
Major Shift from xEVMPD to IDMP
We've all been working in an xEVMPD world for quite some time, and while there's some commonality with IDMP, there's also quite a bit of difference – not just in the components of the data, but the level of detail required with IDMP (see figure 2).
Figure 2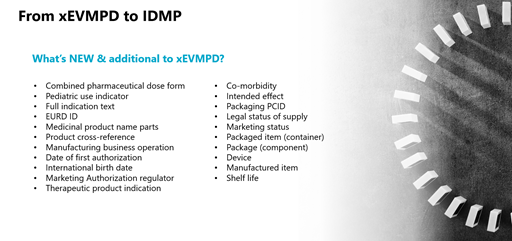 And so it becomes yet another challenge as to how to figure out how to live in both worlds at the same time, while you get ready for IDMP. During this preparation period, three areas are critical:
Under

standing IDMP and its implementation by the agencies such as EMA

Conducting detailed data source analysis

within your organization

eginning to extract data from your data sources in readiness for data staging
Note: The virtual panel and this blog focus on points #2 and #3 and lessons learned from the real-world implementation of IDMP at biopharmaceutical companies. For a more in-depth background discussion around IDMP, please see the previous Phlexglobal webinar, "Leveraging Automation for IDMP Readiness," available on-demand, and as well as our executive brief, "New Developments in IDMP: What You Need to Know, and What You Can Do Today," available here.
For the second and third points, a major challenge is finding and extracting the relevant data from unstructured sources. All organizations have data embedded within documents that can be difficult and time-consuming to extract in a usable format.
As just one example, figure 3 shows the first page of a "simple" SmPC document, which in this case is 17 pages long. That represents a tremendous amount of content to go through to try to extract useful information.
Figure 3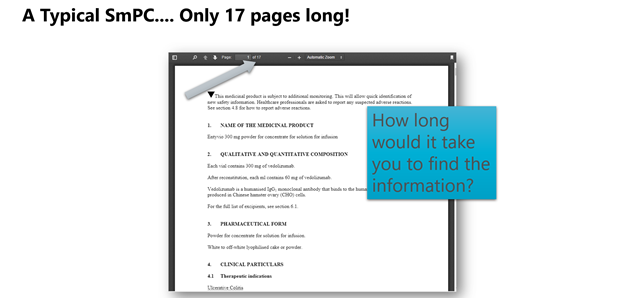 With organizations having so much critical regulatory data housed in unstructured as well as structured data sources, it is important to think about how to create the best approach to managing this data. In fact, IDMP presents an opportunity to evaluate and improve your master data strategies, since you will need to be able to manage the data from multiple sources with a concept of data lifecycle management. As a result, you'll be well-prepared for the early IDMP submissions to the EMA.
Getting to the Desired State
From a technical perspective, one of our industry panelists pointed to the "foundational pillars" of IDMP readiness:
Qualified Product Master Data –

Data Baseline

Integrated Business Processes –

Target Operating Model

Harmonized & Interoperable Electronic Exchange Mechanism

–

FHIR

Standardized Reference Data –

Referential Management System

Harmonized Data Backbone & Consistent Definitions –

ISO IDMP Standards
As he pointed out, however, it's also relevant to think of the Target Operating Model (TOM) not just as technical guidance but as business guidance. In your company, how do you position yourself? How do you organize yourself? Think about how you are going to collect the data, validate the data and make sure the data is up to the right standards – from the birth of the data all the way to the submission.
And that in turns to a key foundation underpinning the ones above: a cultural change and revolution required in the way we perceive and treat data.
It's about moving beyond just pulling things together for the sake of compliance, and really thinking about how we manage data and information, and how we govern it. Do we have the right standards internally? Do we have the right roles and responsibilities defined in our processes – like the data stewards and the data owners?
The Need for Innovation
Panelists also pointed to the value of innovative technologies such as machine learning, text mining, and robotic process automation (RPA) to help manage the complexities around IDMP and other compliance requirements.
The keys to their successful implementation?
Be bold and ambitious. Technology innovation can deliver much more than incremental improvement if you approach it with an expansive mindset.
Be patient. Approaches such as machine learning can present their own challenges during development and implementation. Learn from these challenges and use that knowledge as a feedback to constantly improve, and know that the return on investment will not be on day one or day two.
Invest. AI technologies represent an area where the more you invest, the more your company benefits in the future. Allocate the right resources for governance and validation criteria so that when you are testing the boundaries of technology, you can detect those boundaries and further expand them.
Be agile. IDMP continues to evolve and be defined, with global and regional differences. Be prepared to make adjustments for shifts in IT and R&D strategies, and take into account the fact that technologies will continue to improve at a rapid pace.
Figure 4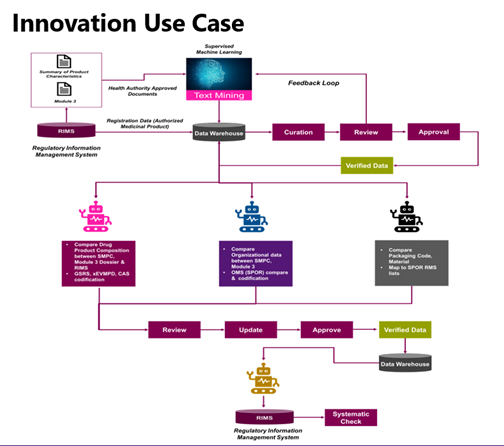 As figure 4 demonstrates, one company successfully applied the above key principles to the text mining of unstructured and structured data from Module 3 and SmPC documents. They first trained the algorithms on a subset of the data, verifying the output and fine-tuning the algorithms before pushing the remaining documents through the system. By being bold and investing the time and resources necessary, the company is now gaining measurable benefits from machine learning in IDMP.
Click Here to watch the on-demand virtual panel discussion to get the full story on how leading organizations are preparing for IDMP – and improving their readiness for future compliance.