Adapted from a March 25, 2020 Phlexglobal webinar, "How Automation is Transforming Regulatory Compliance in Life Sciences" (available on demand) exploring how AI is helping life sciences organizations increase speed and accuracy, while freeing knowledge workers from time-consuming manual tasks.

During the last few years, we've seen a strong trend among our customers to move from document-driven to data-driven processes. Data is the new gold, and AI-powered automation is seen as the critical tool to mine and manage that gold. The aim of these companies to master their digital transformation has become one of their most important strategic objectives.

What started us along this path? How did we arrive at this point?

The evolution around digital health really started decades ago in the 1990's, when people started thinking, "how do we get out of our paper-driven processes and get a bit more digital, because that'll be a bit better for our business?" And so we started seeing software that managed electronic files instead of paper, we started building better processes around electronic instead of paper pathways, and we began converting those electronic files to usable data.

What kicked this all into high gear was the change in IT delivery from on-premise to cloud. One important advancement that came together with global cloud availability is the enablement of Artificial Intelligence. AI experienced a huge boost at this time since cloud computing power is available, which is needed to train AI. And AI is the enabler to become really data-centric.

And that's where you started seeing some of these more robust intelligence capabilities coming to market five years ago, with AI-powered data-driven process. We already had the information, but then freed it from the documents and could start acting on it. We could execute on the vision of more integrated robotic process automation (RPA).

While there was more hype than actual accomplishment around AI for some time, today we are well past the hype stage, and have even moved beyond the early adopter phase. The case study below – one of four covered in the webinar – is proof that AI in clinical research and regulatory is available now, and demonstrating real quantifiable value.

What we see is customers now working to make their systems smarter – whether it's an eTMF, eCTD management system, regulatory information management system, or something else. How do you give these systems some kind of a brain that allows it to do things more efficiently, more intelligently, yielding greater benefits?

In a poll conducted during our webinar, one interesting result was how many AI initiatives are being driven by the lines of business. Another was that in many organizations, no one is driving AI. As the rest of the industry moves rapidly towards digital transformation, these companies risk being left behind.




AI Case Studies in Life Sciences
In our recent AI webinar, I provided four real-world case studies of companies successfully leveraging AI today in their clinical and regulatory processes:
IDMP-Readiness
eTMF Quality
Submission Automation
Managing Health Authority Communications
In this blog I'm just going to provide a snapshot of the first one, IDMP readiness, which we have working on with AstraZeneca. It's important to note, however, that in all four cases, the companies achieved significant reductions in time and manual effort – while actually maintaining or improving accuracy.

Or as one customer said to me in a working session, "what used to take me 2 days now only takes me 2 hours." That strikes to the heart of AI's potential: she can now focus her valuable regulatory skills and experience on more important tasks.

And while the above business use-cases are different, the underlying problem that we're solving with the help of artificial intelligence is the same: Massive amounts of data locked in unstructured formats, a need to examine and extract that data, and a mandate to encode that data into a defined format for regulatory authorities.

Boiled down to its essence we must:

Augment existing systems with artificial intelligence and automation

Power that augmentation with the rich content - as electronic documents - already in the systems

Classify, extract, and encode structured data from those unstructured sources

That's it. Any organization can gain the benefits of AI, as long as they bring thorough business knowledge of their data, processes, and systems; clear goals for what they want to achieve; and internal support.

Where are you on the Digital Evolution?
Case Study: Helping AstraZeneca Prepare for IDMP
As many of you know, version one of the EU implementation guide was released in February 2020. The result is that organizations are restarting IDMP efforts in earnest, since we now know what the data needs are for IDMP implementation in the EU for iteration 1. Complicating the effort is the fact that where before it was around 80 data elements, now we're dealing with over 125 data elements.
Much of this data has traditionally been housed in SmPC documents, along with some eCTD Module 3 documents. It hasn't necessarily always been in one system. What we've done with one of our customers, AstraZeneca, is to take this set of documents and apply Phlexglobal's sophisticated machine learning capabilities – which are already trained on large sets of life sciences regulatory data.
We were able to curate more than 45 unstructured data fields with high accuracy, while significantly reducing manual effort. Since we have also integrated our data-mining platform into external data dictionaries to enrich the data - such as automatic coding of indications into the MedDRA dictionary – we were able to automate the critical coding process as well.
When an indication was extracted by the system, it automatically matched a term against the MedDRA dictionary extracting all term levels. In addition, the SPOR OMS (Organizations Management Service) database was integrated to automatically match the organization data; substances were matched against G-SRS; and dosage forms were matched against XEVMPD terminologies.
The results? Accelerated project timelines, less manual effort, and built-in preparation for future IDMP iterations.
AstraZeneca's IDMP project was completed in just 85 days, versus the company's own estimate of 382 days to do it manually – a significant savings in time and effort across multiple functional areas. Just as importantly, the organization can now generate additional process savings since the data is matched against XEVMPD terminologies. They can easily run reports and check for example what organizations are missing in OMS, whether addresses are incorrect, and so forth.
The company will also be able apply that to substances, having created the database with all relevant IDMP terminologies. With the related XEVMPD mappings, they can validate any referential system that the EMA releases as a part of the SPOR program.
This is just one example out of many real applications of AI in life sciences today. And frankly, new use cases are emerging constantly. For example, one customer has asked us how they might automate the triage of adverse events according to indication and severity, so that SAEs get rise to the top and get immediate attention.
Phlexglobal is actively enabling the digital transformation for our customers, and would be happy to share our experience and lessons learned to support your journey. Our industry, and the patients we serve, stand to only benefit from the proven benefits of AI.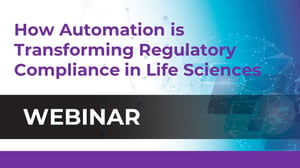 How Automation is Transforming Regulatory Compliance in Life Sciences
Becoming data-centric and mastering digital transformation is the most important topic for life sciences organizations of all sizes. Many companies have reached a plateau of digitalization. While compliance is a key driver for technology investments, the ROI objectives, user adoption and process automation in many companies still have room for improvement.